Student Wellbeing
Student Wellbeing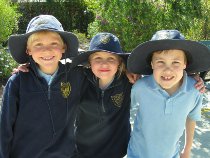 We are committed to providing a safe, secure and happy environment for all students and staff.
The expectation for the behaviour of all students is to be safe, respectful and positive to their learning.
We encourage with students to make good decisions and to act responsibly and ethically.
We believe it important to work with parents to develop students skills in how to:
recognise and manage emotions
show respect and care for self and others
develop positive relationships
make good decisions
behave responsibly and ethically.
We believe students develop personal responsibility when there is a whole school approach. This is underpinned by caring relationships, active learning and, engaging curriculum that is flexible and responsive to student needs and is within a context of wider environmental and community relationships.
Each person in our community needs to take responsibility for creating and supporting the learning environment.
Students need to take responsibility for their own behaviour choices, respect and support the rights of others and accept consequences for their choices.
Parents need to take responsibility and accept that they are role models for their children, encourage their children to make good choices and support school policies and practices.
Staff need to take responsibility to create a safe, caring and supportive learning environment, to be role models, to support students to develop personal responsibility and support school policies and practices.
School Counsellor
Our school counsellor, with the assistance of the Student Wellbeing Coordinator,provides support to students who are experiencing a range of issues. These include:
grief or loss
friendship issues
family breakdown
Teachers or parents can refer students to the school counsellor, or students themselves can make a time to see the school counsellor.
Kids Matter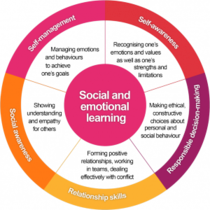 KidsMatter Primary is a mental health and wellbeing framework for primary schools and is proven to make a positive difference to the lives of Australian children.
KidsMatter Primary provides the proven methods, tools and support to help schools work with parents and carers, health services and the wider community, to nurture happy, balanced kids.
Follow this link to the Kids Matter website http://www.kidsmatter.edu.au/primary
As part of our work with KidsMatter all classes teach Social Emotional Learning Lessons. These Lessons are designed to teach the students the 'Five Social and Emotional Competencies' CASEL (2006)
Self management
Self-Awareness
Responsible Decision Making
Relationship Skills
Social Awareness
Students develop their social skills by learning in all five of these competencies.
KidsMatter Primary has developed a number of fact sheets to provide Information for families to help them understand and teach social skills at home. This can be found on the KidsMatter website or on this document Social and Emotional Learning Fact Sheets. www.kidsmatter.edu.au/sites/default/files/public/C2%20MH%20Information%20Sheets520_Collated.pdf
The fact sheets cover areas such as
Making Friends
Fears and Worries
Making Decisions
Anger
Resolving Conflict
Getting Along
Parent Easy Guides
The school has made available a number of Parent Easy Guides to all families.
Parent Easy Guides (or PEGs as they are affectionately known) bring simple, easy-to-read information on many of the issues faced by parents from birth through adolescence.
The PEGs are considered the "flagship" for Parenting SA and represent a valuable information source not only for parents and those caring for children, but also professionals.
They have been developed from research in conjunction with appropriate experts and are widely used throughout Australia.
The PEGS can be found in the front office or can be accessed from http://www.parenting.sa.gov.au/pegs.htm.