Parish
The Renmark Parish.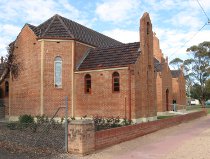 The Parish of St Therese is close to the school and offers a place to gather as a community with the Parish family.
Our Parish Priest, Father Paul Bourke is a regular visitor at the school and takes an active interest in its workings.
The Sacramental Program is school based and greatly supported by the Parish. Families are invited to register their children for preparation of the sacraments. Reconciliation, Confirmation and first Communion and are celebrated as a Parish event within the Parish community.
The Renmark Parish consists of St. Joseph's School and the St. Therese Parish, creating a welcoming community, united in faith, centred in the Eucharist, which embraces the Spirit and nature of all God's People.
St. Therese Parish is open to all members of the community seeking friendship, community and a place to share their fatih with others. The Parish welcomes all those who would like to come and take part in the Eucharist or spend quiet time in prayer.
St. Therese Church:
Ral Ral Avenue
Renmark SA 5341
Mass Times:
1st 3rd and 5th Saturday of the month at 6:30pm
2nd and 4th Sunday of the month at 9am
Parish Office:
Fr. Paul Bourke
Phone: 85821894

Letter to Parishes 113 140219.pdf

Christchurch Support 180032019.pdf