Parents
Be a part of the School Community - Volunteer!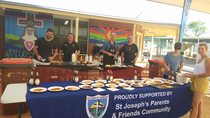 Part of what makes St Joseph's School strong is the energy and creativity of its volunteers. There are endless ways to get involved, whether you're interested in supporting special events, helping out a classroom or on an excursion or participating in fundraising projects, we welcome and appreciate your gift of time
Parent Volunteering
Help in the classroom or canteen
Help with the Quiz night or Sports Day
Be a part of your child's class working bee
Support sports teams
Coordinate the welcome of new families
Organise round table discussions
Join the Parents and Friends Committee
Assist with class reading programs
And more
Being a school volunteer requires attention to several procedures:
Reading a package of materials supplied by the school which has several forms that require attention.
A Police Clearance from the Catholic Church Office organized through the school.
Undertaking online training about Responding to Abuse & Neglect.
Interested? Contact the front office.
Please be aware that all volunteers assisting in the school must have a Catholic Education Office police clearance. Forms are available at the front office. Unsure if you have a current police check? Ask the wonderful Mrs. Leuders to check for you.